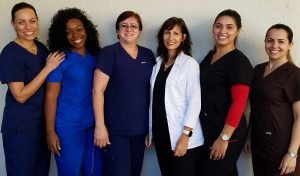 When you visit McCosh Family Dentistry, when you are checking out we will probably ask you if you want to schedule your future teeth cleaning appointments.
Many of our patients find this to be an unusual question. After all, how do you know now whether or not you need a teeth cleaning appointment three, six, or even 12 months from now?
There are a number of reasons why we do this.
The Importance of Teeth Cleaning
Everybody should have their teeth cleaned by a qualified dentist or dental hygienist at least twice per year.
Daily brushing and flossing are essential for optimal oral health. But professional cleaning gets into areas that your toothbrush can't.
Professional teeth cleaning helps reduce the risk of gum disease and helps spot potential problems before they can become bigger.
Accommodating Busy Schedules
These days, just about everybody has a busy schedule. When you set your teeth cleaning appointments months ahead of time, you can work around them on your personal schedule so you don't have a conflict.
We also have a busy schedule so lining up appointments three or six months out helps us provide essential dental care to as many of our patients as possible.
Teeth Cleaning – Accommodating Busy Schedules – Dental Insurance Considerations
Most dental insurance plans allow for at least one or two teeth cleanings per year. If you have dental insurance, you will want to take full advantage of your benefits. After all, you are paying for them either directly or indirectly.
Scheduling your cleaning appointments well in advance makes sure you get your covered treatments in during the dental plan's time frame. If you wait until the last minute to try to schedule a teeth cleaning appointment before your benefits expire, there's a chance we won't be able to get you in on time.