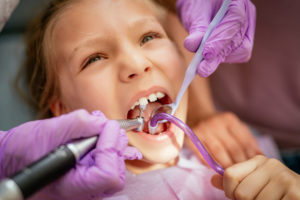 Did you know that late summer is one of the busiest times of the year for most dentists? That's because it's right before kids are going back to school.
Many schools will require students to show proof of a dental checkup and medical physical exam prior to starting school. This is especially true when children are entering the 1st grade, freshman year of high school, or going to college for the first time. Schools want to make sure their students are healthy prior to beginning a new stage in their academic career.
For dentists, this can mean a flurry of calls from harried parents who need to get their children in for a checkup before they can start their new school.
Make Your Appointments Early
If you have children who need a dental checkup before going back to school, the best thing you can do is to anticipate it as early as possible. Waiting until the last minute puts your child at risk of not getting in to see their dentist. And if you can't get an appointment with your preferred dentist, you may have to schedule a last-minute checkup with a doctor you don't know — and who isn't familiar with your child's dental history.
All of that can be avoided by simply making your child's appointment ahead of time. How early? At least a few weeks, if not a couple of months before they are scheduled to start at their new school should be enough time.
Providing Quality Dental Care for the Whole Family
Even if your child's school doesn't require dental checkup, it's always a good idea to have your child's teeth checked out before they go back for the year — especially if they are going away to school.
Annual checkups need to be a routine part of anybody's comprehensive dental care, including your child's. Make your appointment well ahead of time to avoid the back to school rush.